Характеристика Australian Animal Tarot — Таро Австралийских Животных
Авторы: Ann Williams-Fitzgerald, Tracy Hinschen
Художник: Tracy Hinschen
Издательство: AGMuller; U.S. Games Systems
Производство: Германия; США
Состав: 78 карт + книга на англ. языке
Язык карт: английский
Размер карт: 74 х 109 мм
Год: 2000, 2001
ISBN: 978-1572813236
Традиция: Уникальная
Младшие арканы: иллюстрации
Масти: жезлы (земля), чаши, мечи (огонь), пентакли (воздух)
Карты двора: Паж, Рыцарь, Дама, Король
Нумерация: Шут 0 Сила 11 Правосудие 8
Категория: животные
Исконно австралийское Таро, каждая из 78 карт в  Таро Австралийских Животных ассоциируется с определенным животным, птицей, рептилией и насекомым, и проиллюстрирована со множеством реалистичных деталей. Драгоценный камень и четыре ключевые слова взаимосвязаны с каждой картой. Элементы масти были также изменены — Жезлы стали Землей, Мечи теперь являются Огнем и Пентакли являются Воздухом.
Обзор с зарубежных сайтов
Обзор Australian Animal Tarot — Таро Австралийских Животных
Таро Австралийских животных сочетает в себе структуры Таро с особой мудростью млекопитающих, птиц и других существ Австралии. Энн Фицджеральд Уильямс считает, что существует много всего, что мы можем узнать, открыв себя тому дару, который предлагают эти животные. В центре каждой карты нарисовано изображение животного, имя и ассоциативные эзотерические символы. В границы карты вписано  вверху название с номером и соответствующие кристалл или камень внизу. Надписи по обе стороны являются ключевым словам значений. Бордюр имеет  фиолетовый цвет на старших арканах, слегка отличного оттенка от младших арканов. Художница Tracy  Hinschen.  Таро Австралийских животных основано на другом 48-карточном оракуле Уильямс-Фитцджеральд и художницы Карен Осборн,  называемом «Мудрость Австралийских Животных» (Wisdom of the Australian Animals).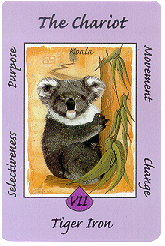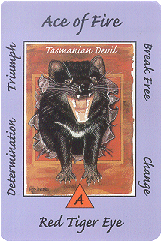 Язык: English
Названия старших арканов:
Fool, Magician, High Priestess, Empress, Emperor, Hierophant,
Lovers, Chariot, Strength, Hermit, Wheel of Fortune, Justice,
Hanged Man, Death, Temperance, Devil, Tower,
Star, Moon, Sun, Judgement, World
Животные старших арканов:
Tasmanian Tiger, Australian Raven, Cat, Dugong (Sea Cow), Kangaroo, Wombat (Hairy-nosed),
Sugar Glider, Koala, Lizard/Gecko, Echidna, Beetle, Cockatook,
Moth/Catepillar, Spider, Kookaburra, Goanna, Bat,
Emu, Platypus, Peacock, Cassowary, Peace Dove
Масть земли — Animal Names:
Bandicoot, Dunnart (fat-tailed), Numbat, Potoroo, Camel, Bilby, Chicken (Woodhen), Praying Mantis,
Green Tree Python, Dragonfly, Green Ant, Australian Cattle Dog, Braham Cow, Brumby
Масть воды — Animal Names:
Dolphin, Australian Fur Seal, Jellyfish, Shark (Great White), Blue Ring Octopus, Mud Crab, Star Fish,
Giant Green Tree Frog, Humpback Whale (Albino), Manta Ray, King Penguin, Swan, Loggerhead Turtle, Sea Dragon
Масть воздуха — Animal Names:
Butterfly, Pelican (Australian), Golden Bowerbird, Willie Wagtail, Parrot, Brolga, Crow, Hawk/Falcon,
Wedgetail Eagle, Tasmanian Masked Owl, Superb Lyrebird, Brush Turkey, Australian Magpie, Seagull (Pacific)
Масть огня — Animal Names:
Tasmanian Devil, Aussie Bush Fly, Possum, Dingo, Bee, Fox/Flying Fox, Bush Thick-Knee Curlew,
Rabbit/Hare, Quoll (Native Tiger Cat), Orca Killer Whale, Mosquito, Saltwater Crocodile, Wasp, Scorpion
Масть: Fire (Wands), Water (Cups), Air (Swords), Earth (Pentacles)
Карты двора: King, Queen, Knight, Page
Joan Bunning, перевод rozamira