В 2022 году издательства Llewellyn, U.S. Games Systems, планируют выпустить следующие новинки Таро и Оракулов:
Посмотреть каталоги  Llewellyn's Winter 2022 Trade Catalog (январь-апрель 2021),  Llewellyn's Spring-Summer 2022 Trade Catalog  
Читать каталог U.S. Games Systems 2021_Tarot Catalog Supplement 87  и каталог 2022 Tarot & Inspiration Catalog No. 89  
Читать каталог издательства Red Wheel / Weiser Fall 2021 Trade Catalog и Red Wheel / Rockpool Publishing Spring 2022 Trade Catalog 
Llewellyn
 

SOUL CATS TAROT в апреле 2022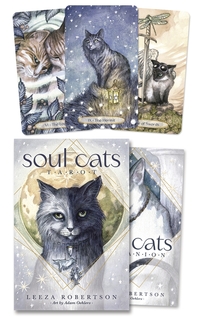 Leeza Robertson, Adam Oehlers
Набор 78 карт + 216 стр. книга на англ. языке 
THE EMPATH'S ORACLE в мае 2022

Raven Digitalis, Konstantin Bax
Набор 40 карт + 196 стр. книга на англ. языке
TAROT OF DRAGONS в июне 2022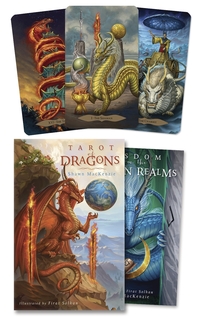 Shawn MacKenzie, Firat Solhan
Набор 78 карт + 216 стр. книга на англ. языке  
Anatomy of a Witch Oracle в августе 2022
LAURA TEMPEST ZAKROFF
Набор 48 карт + 192 стр. книга на англ. языке 
****************************************************************
U.S. Games Systems, Inc.



Great Eastern Oracle
Explore the divine philosophies of forty mystics through the insight and artistry of Rassouli. Open secret doors, and wander into spiritual enrichment with the wisdom of Confucius, Gurdjieff, Rumi, Gibran and others.
Seeker Oracle
Seeker Oracle is for the inquisitive, the questioning, and those curious, not just about who they are, but who they can become. Your 55 fantastical companions will walk with you, share their insight and nudge you further along your exquisite journey of discovery.
The Stoller Tarot in a Tin

Comic strip artist Adam Stoller takes a humorous approach to traditional tarot with colorful cartoon-like artwork and reimagined symbols and figures. Tarot readers will enjoy searching for mischievous meanings and amusing correspondences in this delightful pocket-sized deck in a tin.

 

Tarot Neocolonial de las Américas

As a Puerto Rican artist, Patrick McGrath Muñiz felt compelled to address issues of social and economic struggles within his tarot art. The result is a stunning series of visual narratives depicting 500 years of colonialization and conquests in Latin America.

  

Oracle of Light & Dreams

English fantasy artist Scot Howden has created inspiring characters who share their bravery, strength and wisdom in this enchanting oracle deck. Let each of their stories lift your spirits, ignite your imagination and fill your dreams with hope.

Goddess Spirit Oracle Deck

Goddess Spirit is alive around the globe as teacher, healer, leader and mighty protector. She is fertile maiden, wise crone, and guardian of life. Use this oracle to awaken her magic within yourself.

 

Mandala Healing Oracle

As you explore the beautiful mandalas in the 44 circular cards you will delve into the hidden hues, rich imagery and glorious metaphor of your subconscious, your higher self, and your innate potential.

Twin Flame Ascension™

Twin flame ascension is a self-actualization process that begins when your inner soul-self becomes activated through a spiritual awakening. The imagery and energy of the deck guides you through the rebirthing process, which allows a shift in perception, new insight, and greater fulfillment in all areas of life.

  

Wisdom from the Epics of Hind

This intriguing set presents insight from Indian stories, teachings, sutras and legends, as well as the wisdom from the classic Hindu epics the Ramayana and the Mahabharata. The colorful 50-card deck includes 25 female and 25 male cards.

Heavenly Bloom Tarot Deck

Heavenly Bloom Tarot blossoms with inspiration from both the natural and fantasy realms. Beautiful floral elements throughout convey peace and optimism.

 

Calming Inspirations: 55 Messages to Soothe, Comfort, Ease and Unify

With the tender guidance of this mini deck you'll find your way and feel encouraged to help heal the world.

The Witching Hour Oracle

The Witching Hour is the time when the infinite energy of the universe is strongest and most accessible. Channel the wisdom of the Triple Goddess and the power of the lunar cycles to manifest potent outcomes.

Wisdom of Hafiz

Hafiz invites you to remember the ancient wisdom that lives within your soul. Whether you seek guidance, support, inspiration or a new perspective, the spirit of the Sufi poet encourages you to look inward.

When My Soul Whispered Oracle Deck

When My Soul Whispered Oracle presents charming minimalistic imagery from the realms of nature and spirituality. The delicate chakra-based watercolor artwork in the 44-card deck serves as a starting point for readers to contemplate the card meanings on a profoundly personal soul level.