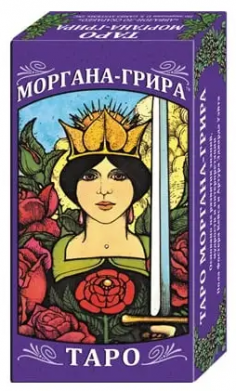 Русское издание Аввалон-Ло Скарабео по лицензии US Games
Характеристика Morgan-Greer Tarot — Таро Моргана-Грира
Автор: Bill Greer, Lloyd Morgan
Художник: Bill Greer
Издательство: U.S. Games Systems
Производство: США
Состав: 78 карт + инструкция на англ. языке
Язык карт: английский
Размер карт: 70х120мм
Год: 1979, 2012
ISBN: 978-0913866917
Традиция: Уэйт
Младшие арканы: иллюстрации
Масти: жезлы, чаши, мечи, пентакли
Карты двора: Паж, Рыцарь, Дама, Король
Нумерация: Шут 0 Сила 8 Правосудие 11
Категория: аналог таро Уэйта
Стиль картин: ручная роспись иллюстрация
Оккультные темы: Традиционное Таро
Рекомендации по применению: Введение в гадания
Предмет: Основы, расширенные
Иллюстрации Ллойда Моргана и Билла Грира. Данная Колода основывается на знании, мудрости и традиции знаменитых Пола Фостера Кейса и Артура Эдварда Уэйта. 
Русское издание Таро Моргана-Грира:
 Автор: Ллойд Морган
Художник: Билл Грир
Издательство: Аввалон-Ло Скарабео по лицензии US Games
Производство: Россия
Состав: 78 карт + инструкция на русском языке
Язык карт: русский
Размер карт: 6,9 х 12 см
Год: 2021
ISBN: 978-5-91937-369-8
Таро создано Ллойдом Морганом и Биллом Гриром в 1979 году и берёт основу в классической первоначальной системе Райдера-Уэйта, но в более усовершенствованном для восприятия и предсказаний варианте. Колода окрашена в исключительно богатые, яркие цвета. Изображения выполнены без границ и в полную длину карт.
78 карт, 69 x120 мм.
Инструкция и карты на русском языке.
Где купить Morgan-Greer Tarot — Таро Моргана-Грира
*Ссылки на магазины показывают, что там была замечена данная колода.
Обзор с зарубежных сайтов
Обзор Morgan-Greer Tarot — Таро Моргана-Грира
Таро создано Ллойдом Морганом и Биллом Гриром в 1979 году и основана на классической системе Райдера-Уэйта , но более усовершенствованный для восприятия вариант.
Таро Грира  окрашена в исключительно богатые цвета , выполнена без границ, изображение выполнено в полную длину карт.  Грир выбирает изображение в  ближней перспективе, поэтому  часто мы видим три четверти фигуры: голову и плечи.
Многие изображения могут быть как девушкой, так и мальчиком, что облегчает восприятие карты и  мужчинам и женщинам
Символизм Младших Арканов имеет лишь несколько отступлений, очень удачных ,  которые подстегивают воображение и облегчают толкование: девять мечей показывает символ связаных рук, что сразу изменяет или дополняет смысл.Или, например, десятка мечей — это десять скрещенных мечей на синем поле в колоде Райдера-Уэйта, и она ничего не говорит напрямую,а в Morgan-Greer на десятке мечей изображен человек, лежащий ничком с десятью мечами  в спине, гораздо больше напоминающих предательство!
Эта колода  великолепна для начинающих  и просто красива. 
*****************************
таро МОРГАНА — ГРИРА / MORGAN -GREER TAROT. обзор колоды Amolina
Проработка / Обсуждение Morgan-Greer Tarot — Таро Моргана-Грира
МБК значения: Morgan-Greer Tarot — Таро Моргана-Грира
Скачать книгу-компаньон Susan Gerulsris-Estes — The Book of Tarot (illustrated Morgan-Greer Tarot).pdf (англ. язык)
Mysticgames.com Morgan-Greer Deck (трактовки значений карт арканов) 
0—THE FOOL. 
One who is enthusiastic but inattentive to details. Immature and carefree, yet pure of heart. 
REVERSE: 
Poor evaluations, carelessness.
I—THE MAGICIAN. 
With wisdom and skill, he harnesses energy into force, and force into power for the benefit of mankind.
REVERSE: 
Misuse of one's power for destructive purposes.
II—THE HIGH PRIESTESS. 
Penetrating intuition and foresight are aspects of her wisdom and mystery. Her acute mind could be applied to the sciences. 
REVERSE: 
Impatient, self-centered, superficial in knowledge.
III—THE EMPRESS. 
Wife, mother, companion. Through warmth and devotion, she brings pleasure and comfort to her loved ones. Finds practical application and purposes for ideas.
REVERSE: 
Demands much to be given and little returned.
IV—THE EMPEROR. 
A mature man with conviction and the ability to execute plans and ideas. He maintains an overview of all situations with stability, control, and reason. 
REVERSE: 
Shortsighted and unreasonable.
V—THE HIEROPHANT. 
He reflects his spiritual beliefs and concern for others through example.
REVERSE: 
Afalse prophet, presumptuous, self-righteous.
VI—THE LOVERS. 
The end of isolation and the formation of a bond based on love, honor, and trust. 
REVERSE: 
Infatuation, lust, conceit
VII—THE CHARIOT. 
A triumphant victory over life's opposing forces. With difficulties resolved, balance is
restored.
REVERSE: 
Controversy, imbalance, defeat.
VIII—STRENGTH. 
Courage, compassion, and determination enable one to subdue and soothe the hostile forces within ourselves or others. 
REVERSE: 
Unleashed hostility, cowardice, avoidance.
IX—THE HERMIT. 
Great wisdom, vision, and counsel selflessly given to all who seek the light of his experience. 
REVERSE: 
Withdrawal from responsibility to others.
X—THE WHEEL OF FORTUNE. 
The wheel is ever turning, heralding change, and unfolding fate. Gain or loss could be next. 
REVERSE: 
One defeated by change or misfortune.
XI—JUSTICE. 
Your rights have been protected by her word—the scales weigh in your favor to claim your innocence. 
REVERSE: 
Intolerance, bias, injustice.
XII—THE HANGED MAN. 
One who has found equilibrium through his own concept of reality. Spirituality, intuition, and self-sacrifice are implied. 
REVERSE: 
One bound by convention, faithless.
XIII—DEATH. 
Great change in life-style, view of self, or view of the world.
REVERSE: 
Stagnation, inertia.
XIV—TEMPERANCE. 
Contemplation, clarity, and patience point the way to understanding the nature of heaven or earth.
REVERSE: 
Scattered forces, conflicting interests, confused direction.
XV—THE DEVIL. 
Man's most destructive qualities unleashed. Great caution and awareness necessary in
business or personal relationship.
REVERSE: 
Blindness, weakness, submission to evil forces.
XVI—THE TOWER. 
In a flash, the road one has traveled comes to a sudden halt. Sudden change, disruption, and adversity. 
REVERSE: 
Tyranny, oppression.
XVII—THE STAR. 
Enlightenment, inspiration, purification, finding one's inner light. 
REVERSE: 
Arrogance, defeatism.
XVIII—THE MOON. 
Darkness magnifies fears and dangers. Harsh realities. Disillusionment. 
REVERSE: 
Peace follows difficult period.
XIX—THE SUN. 
Warmth and sincerity in a relationship. Liberation from limitation. Growth, expansion. 
REVERSE: 
Loneliness, uncertainty, possible loss of relationship.
XX—JUDGMENT. 
An unfolding sense of one's part and purpose in the world and the universe. Awareness of the interrelation of all things.
REVERSE: 
Fear of the unknown, isolation, separation. 
XXI—THE WORLD. 
Attainment of wealth and prosperity. Recognition and rewards from earnest labor. Change in status. 
REVERSE: 
Superficial vision, outlandish expectations.
Жезлы.
KING OF RODS.
A noble man, honest, conscientious, and just. Spiritually aware and in control. 
REVERSE: 
Stern, but tolerant and sincere.
QUEEN OF RODS. 
An honorable woman, loving, loyal, and spiritually inclined.
REVERSE: 
Deceit, infidelity, opposition.
KNIGHT OF RODS. 
A young man traveling a path predominated by his belief in the unknown. Possible change in residence. 
REVERSE: 
Discord.
PAGE OF RODS. 
A young man bearing information or spiritual importance. 
REVERSE: 
Instability.
TEN OF RODS. 
Oppression. Although a burden weighs heavily upon the figure, still he perseveres. 
REVERSE: 
Clouded perception, apathy, self-defeat.
NINE OF RODS. 
Strength and readiness to meet opposition boldly. A victory after a struggle. 
REVERSE: 
Adversity, indecision, obstacles.
EIGHT OF RODS. 
High hopes and swiftly approaching goals promise success.
REVERSE: 
Impatience, delay, quarrelling. 
SEVEN OF RODS. 
Validity of one's principles are under attack by adversaries. The courage to uphold those principles creates advantage.
REVERSE: 
Confusion, feeling vulnerable, defenseless-ness.
SIX OF RODS. 
Triumphant resolution of difficulties. The realization of hopes and desires. 
REVERSE: 
Fear, disloyalty, betrayal. 
FIVE OF RODS. 
Competition and struggle for dominance and power.
REVERSE: 
Deception, litigation, underhandedness. 
FOUR OF RODS. 
Bountiful and well-earned harvest of peace, prosperity, and harmony. 
REVERSE: 
Unaltered peace, prosperity, and harmony. 
THREE OF RODS. 
Great spiritual strength enables one through contemplation to meet what lies ahead. 
REVERSE: 
The end of trials, disappointment and trouble. 
TWO OF RODS. 
Though power and dominion are within one's grasp—still one is forlorn. 
REVERSE: 
Emotional disturbance, fear of the unknown. 
ACE OF RODS. 
The source and origin of spiritual strength. The seed of inspiration and creation. 
REVERSE: 
Decadence, corruption, spiritual poverty. 
Кубки.
KING OF COPS. 
A man of great compassion and understanding. He has succeeded in his endeavors and has found peace and contentment. He is helpful and kind to others. 
REVERSE: 
Selfish, shallow, and self-satisfied.
QOEEN OF COPS. 
A warm and loving woman. She has great emotional depth which she will gladly share with those in distress. 
REVERSE: 
Self-satisfied, vain, and untrustworthy.
KNIGHT OF COPS. 
A confident and amiable young man bearing invitation to a new beginning.
REVERSE: 
A fraudulent and untrustworthy relationship.
PAGE OF COPS. 
A youth developing emotional understanding of self and others. A new beginning; a birth or opportunity. 
REVERSE: 
Failure to seize opportunity.
TEN OF COPS. 
Bliss, contentment and emotional richness is attained. 
REVERSE: 
Emotional poverty, anger, and guilt.
NINE OF COPS. 
Completion and satisfaction achieved. Emotional and physical well-being attained. 
REVERSE: 
Misinterpretation of relationships leads to costly mistakes.
EIGHT OF COPS. 
Retreat from emotional involvement.
REVERSE: 
Emotional entanglement.
SEVEN OF CUPS. 
Search for attainment, knowledge, riches, etc., but here imagination is stronger than reality.
REVERSE: 
Great progress towards the completion of a project.
SIX OF CUPS. 
Reflecting upon the past. A return to innocence, simplicity, and purity. A desire for change. 
REVERSE: 
Inability to incorporate change brings stagnation in growth and childishness. 
FIVE OF CUPS. 
With remorse and regret, one bitterly submits to misfortune.
REVERSE: 
Reconciliation. Strength and hope return.
FOUR OF CUPS. 
Despondent and forlorn, one hesitantly seeks spiritual resolve of inaction. 
REVERSE: 
New instruction and new relationships.
THREE OF CUPS. 
Bountiful outcome with contentment and solace.
REVERSE: 
The end of achievement, disillusionment.
TWO OF CUPS. 
Two become one in love or friendship. A union based upon respect.
REVERSE: 
False love and misunderstanding.
ACE OF CUPS. 
The essence of beauty, joy, and love. Peace in matters of the heart.
REVERSE: 
Emotional instability; a false heart.
Мечи.
KING OF SWORDS. 
Mature and in full command, he is the law and authority over whatever field he may choose. 
REVERSE: 
Power tainted by cruelty and malicious intentions.
QOEEN OF SWORDS. 
A woman of great strength and independence, able to forge her way in the world. 
REVERSE: 
A woman dominated by malice, deceit, and intolerance.
KNIGHT OF SWORDS. 
A brave and skillful warrior capable of meeting opposition. 
REVERSE: 
Extravagance causes destruction and ruin. 
PAGE OF SWORDS. 
A youth engaged in observing the principles of power.
REVERSE: 
Treachery, disloyalty, sickness. 
TEN OF SWORDS. 
Sudden misfortune, ruin, and pain. 
REVERSE: 
A temporary advantage for profit and power. 
NINE OF SWORDS. 
Failure, delay, and disappointment overshadow desire.
REVERSE: 
Imprisonment, fear, and shame. 
EIGHT OF SWORDS. 
Bound by the dictates of authority, one is unable to free himself or herself from crisis. 
REVERSE: 
Opposition, struggle, anxiety. 
SEVEN OF SWORDS. 
Partial success in coping with authority.
REVERSE: 
Heed advice and counsel. 
SIX OF SWORDS. 
A smooth passage from difficulties. 
REVERSE: 
Unresolved anxiety.
FIVE OF SWORDS. 
Dishonor, degradation, and humiliation.
REVERSE: 
Disarmed and exposed, one has cause for regret.
FOOR OF SWORDS. 
Spiritual retreat; solitude and repose.
REVERSE: 
Chaos, disharmony.
THREE OF SWORDS. 
Sorrow, delay, and disappointment. One who chooses power over emotion. 
REVERSE: 
Disorder, confusion, alienation. 
TWO OF SWORDS. 
Blind faith in direction. One who conforms to the dictates of authority. 
REVERSE: 
Disloyalty, scheming. 
ACE OF SWORDS. 
A triumphant conquest; great power or force.
REVERSE: 
Weakness, dissipation of strength. 
Пентакли.
KING OF PENTACLES. 
Mature man, successful in business accomplishments and secure in his ability to make financial judgments.
REVERSE: 
Corrupt, jaded, weak, on the brink of financial peril.
QOEEN OF PENTACLES. 
A highly intelligent woman inclined to order and efficiency. She's generous, secure, and free of material care. 
REVERSE: 
Suspicious, condescending, conniving.
KNIGHT OF PENTACLES. 
A responsible and hardworking man, he has acquired sufficient skills to be of service. 
REVERSE: 
Idleness, stagnation, and carelessness.
PAGE OF PENTACLES. 
A youthful person—scholarly, and willing to work hard. An apprentice with new ideas. 
REVERSE: 
Rebelliousness.
TEN OF PENTACLES. 
Financial power, material domination, family inheritance.
REVERSE: 
Loss of reputation, pomp, defiling the family name.
NINE OF PENTACLES. 
One content with financial success and outward accomplishments. 
REVERSE: 
Flagrant displays, facade, bad faith.
EIGHT OF PENTACLES. 
Craftsmanship and skilled labor etch out financial security.
REVERSE: 
Void of ambition—greed leads to usury.
SEVEN OF PENTACLES. 
Cultivating material gain is a combination of individual effort and hard labor.
REVERSE: 
Anxiety over economic status.
SIX OF PENTACLES. 
Generosity is repaid through material prosperity.
REVERSE: 
Jealousy and envy reap no benefits.
FIVE OF PENTACLES. 
Spiritual warmth comforts those suffering financial or physical hardships.
REVERSE: 
Disorder, chaos, and ruin grasp the inner self, resulting in spiritual and financial discord.
FOOR OF PENTACLES. 
Impressed by wealth and power, one clings to material gain for his identity.
REVERSE: 
The walls of material security crumble.
THREE OF PENTACLES. 
The apprentice enjoys spiritual reward from earnest labor. 
REVERSE: 
Mediocrity in work, pettiness, and immaturity.
TWO OF PENTACLES. 
Harmony in the midst of change.
REVERSE: 
News brings surface pleasure, false enjoyment.
ACE OF PENTACLES. 
The path of material gain and the attainment of wealth and prosperity. 
REVERSE: 
The misuse of wealth causes unhappiness and deterioration of character.